This Web site was designed using Web standards.
Learn more about the benefits of standardized design.
Quick Links
Main Navigation
WELCOME TO THE HOME OF THE TIGERS
Top Stories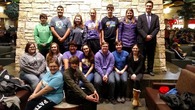 Large Group State Qualifiers (Back Row L-R): Jadeynn Collins, Oscar Torres, Lainie Edie, Leatha Bennett, Christian Horn, Kaylin Carlson, Ethan Hewett. (Middle Row L-R): Brenna Craig, Elsa Wemhoff, Emily Rose, Abigail Sherman, Harris Rogerson, Hannah Shalters, Bree Berkey. (Front Row L-R): Cassie Vrabel and Sean Griffen. Not pictured: Liam Eubank and August Taylor.
We took 7 groups to Waukee Saturday, February 6 to compete at the State contest. These 7 groups included 18 students. They all performed well for three judges in each event. The results were: 1. Choral Reading: Leatha Bennett, Bree Berkey, Brenna Craig and Hannah Shalters received straight 1s. 2. Short Film: Ethan Hewett, Sean Griffen, Harris Rogerson, Hannah Shalters, Oscar . . . read more